An ideal gift for your musician friends!
There are 3 products available, all of which can be personalised. They are:
A stack of sheets (A4 or smaller);
A staple-bound A4 booklet;
Loose sheets larger than A4, up to A3.
Read on for some ideas about the ways you can personalise your manuscript paper. When you know what you want, scroll down to the order form.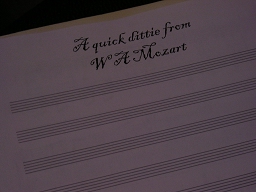 Manuscript paper designed just for you! At the Chichester Music Press, as well as providing conventional manuscript paper in all the normal sizes, we can also give you considerable control over exactly how you want your paper's design to look, and so over how you want your score to look when you've finished writing it. Please note that colour printing is not available.
Paper size We can produce pretty well any size up to A3. This includes standard sizes like B4, but you can also specify your preferred dimensions in millimetres if you want to.
Staves You can choose how many staves you want on each page, as well as how tall you want them to be. You can even have them grouped into systems if you want. For example, if you want to write for string quartet, you could decide to go for 12 staves on a page, with a gap separating them visually into three blocks of four. We can label the staves for you if you want, or leave them unlabelled.
Text We can add headers and footers on your pages, in a variety of fonts, sizes and positions. For example, you might want a specific copyright message to appear on the bottom of all your pages. Or you might want to put your name as a banner across the top, like Mozart has in the above picture. And if it's good enough for him....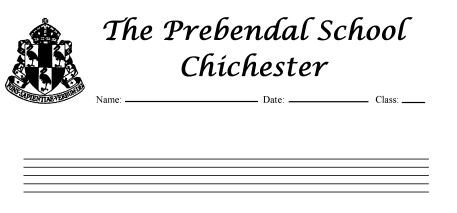 Schools If you're ordering paper for your school, we can add your school's banner and logo to the top of each sheet, and add spaces for pupils to write their names and the date etc. For younger children, we can make the stave size bigger (e.g. to fit six staves to an A4 page). We can add boxes for teachers' or parents' comments. We can do pretty well anything you like to give your manuscript paper the unique look you want.
---
Order form
Step 1 First, click here to open a new window with the order form for all manuscript paper. Carefully choose the products you want. In the quantity box, please type the number of books, sheets or blocks of sheets you require, and press the add button. Close the new window when you've finished.
Step 2 Then, email info@chichestermusicpress.co.uk. In the email, please describe how you want your manuscript paper to look, including paper size, number of staves, and any textual details you want added. We will get in touch with you to check any details, and will show you a proof copy before we mass produce.
Step 3 After you've sent the email, click the Checkout button to commit the order and pay.
Any queries, get in touch.
---
Testimonials
This is what our customers have been reporting back to us....
Just letting you know the manuscript arrived in this afternoon's post and its fabulous so thank you very much for all your help ... ill be back and ill be recommending you to anyone else who may want a product like this and both the product and service is exceptional.
KF, Port Talbot
Thank you for the paper whch has arrived safely and is exactly what I need.
MC, Oxted
Item received, thank you ever so much, I'm sure my wife will love it. Your service has been faultless and you have been very informative and helpful. I will use your services again and will tell our music loving friends about you.
PW, Dudley
I received the manuscript today. Many thanks, its perfect.
LV, Barnsley
Brilliant, thanks for your help, has been a great service will highly recommend
EF, London E4
Just to let you know that I have received the paper and it looks really really good!!! Thanks very much for all your help.
AT, Windsor
Would like to inform you of receipt of my order. Was delighted with it. Thank you for your assistance.
CW, Newcastle
Got the manuscript through and it looks fantastic. Thank you so much, I can assure you you have a guaranteed regular customer...
KS, Enfield
Received with thanks, I'm very happy with the result!
WL, London
Thank you very much, I received the paper yesterday and it's lovely. I'm really pleased with it and thank you for your good customer service too.
LT, Leavenheath
Thanks so much for the manuscript - it's fantastic. Could I place another order?
CW, London
That's perfect! Thanks for all your help.
SR, Bedford
That looks fantastic, thank you very much. I'm very impressed with the level of service.
SG, Manchester
Wow! That was quick!
LB, Ely
I Have received manuscript this morning,thank you for such a quick service.Its great he's gonna love it
AR, Brackla